[Insight] Vietnam's Game Market Status and Outlook
KEY TAKEAWAYS
•In 2021, Vietnam will grow to the 23rd largest market in global game sales rankings.
•For 5 years during 2017~2021, it was evaluated as the market with the highest potential in Asia, recording an average growth rate of 11.4%.
•Vietnam's average annual population growth rate is 1.19%, estimated to be about 99.3 million by the end of 2022, with young people between the ages of 15 and 44 expected to be the majority.
•Due to its young population structure, high smartphone penetration (63.1%) and Internet penetration (70.3%), it is attracting attention from foreign investors as the best distribution/sales destination for leading game companies in Japan, Korea, China and North America.
Vietnam game industry status
•In 2021, sales in the Vietnamese game market rose 19.9% year-on-year to 14.5 trillion VND (about 791.7 billion KRW).
•Vietnam is still encroaching on overseas investment capital despite its efforts to the game industry over the past 20 years.
•80% of game sales come from foreign games developed in China and Korea, which are released locally, and most of them publish overseas games and divide profits according to mutually agreed rates.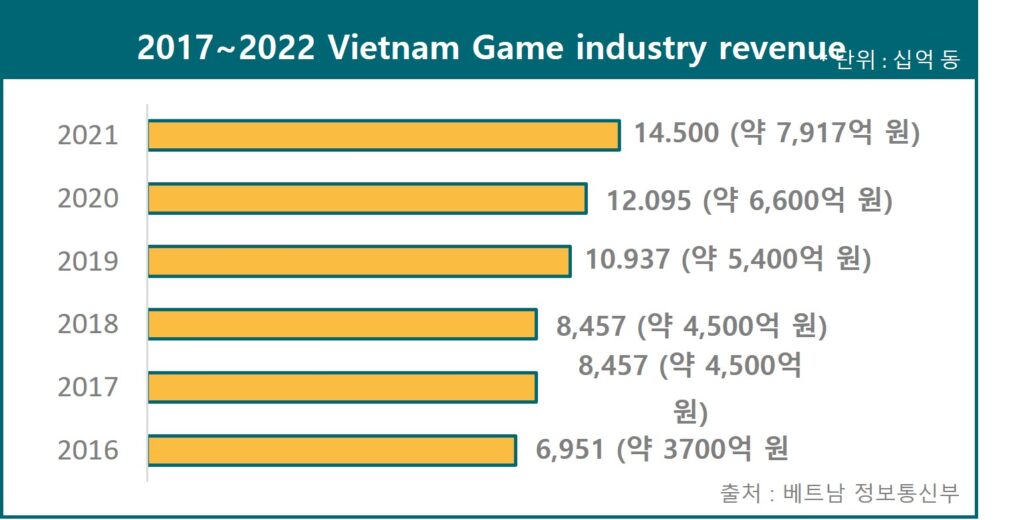 Vietnamese Game Users' Characteristics and Preference
•There are about 40 million game users in Vietnam, with the age group between 25 and 34 being the largest.
•20% of the total gaming population are Generation Z (16-24 years old), and 74% of them play games for about 60-90 minutes at least twice a day.
•In the user gender ratio survey, 51.2% were female and 48.8% were male, indicating that there were more female game users than men.
•In the user survey by income section, 41.7% are high-income people, 31.5% are middle-income people, and 26.9% are low-income people, and the higher the income, the more likely they are to enjoy games as a leisure activity.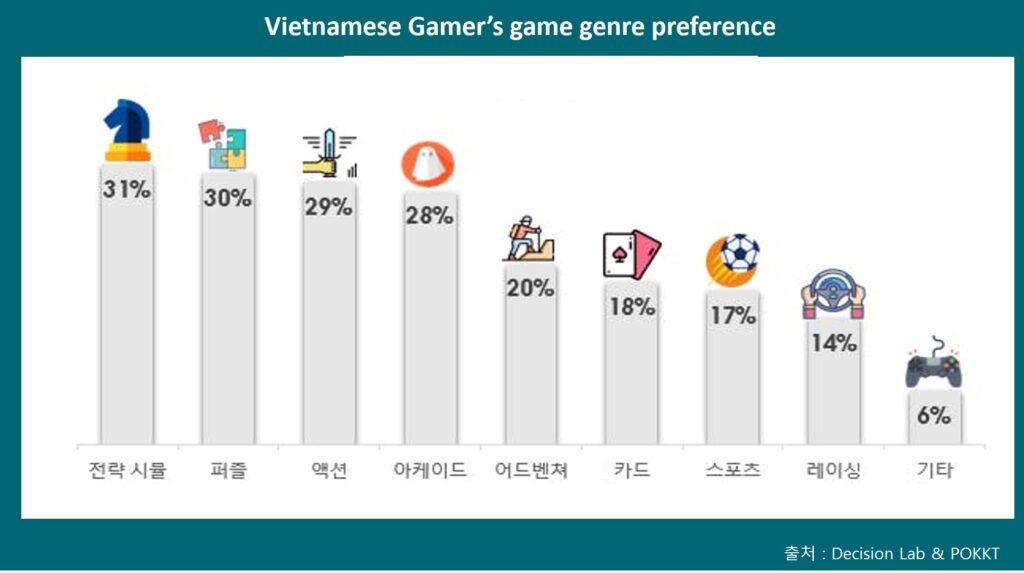 E-sport Game Status
•According to <Vietnam Esports Whitepaper> in 2021, 18 million out of 40 million gamers play e-sport games.
•The most downloaded mobile games in Vietnam are esports games, and esports games with an official publisher in Vietnam have the advantage of being able to attract users more easily than other games.
•On average, Vietnamese gamers have played two esports games or watched esports matches, of which 52.5% watch esports content every day.
•Currently half gamers of age of 13~22 spend on e-sport and the point in the time when they have a purchase power will be a new momentum of e-sports in Vietnam
Game Publishing Permit System
•In July 2013, the Vietnamese government enacted No. 72/2013/ND-CP to stipulate specific permission standards for game content and scenarios.
•The decree sets out strict rules to limit the spread of negative aspects of games to society.
•Accordingly, Internet games are divided into four license grades according to the service provision and usage method
| | |
| --- | --- |
| Category | Content |
| G1 | Video game that interacts with multiple players through a game server |
| G2 | Video game that interacts only with the player and a game server. |
| G3 | Video game server that interacts with multiple players without any interaction between players and the game. |
| G4 | Video game that can be download from the internet without any interaction between the player and the player and game server. |
•According to the law, foreign investors cannot establish a game production/publishing company with 100% capital and must make joint investments with a Vietnamese company at a capital investment rate of 51% or less.
•In addition, game companies are charged a total of 44% by paying 10% value-added tax, 10% by foreign contractors, and 22% by corporate income tax on sales.
•Although many game publishers have suffered from the complexity of the G1 approval process, the government approved 1994/QD-TTg in November 2021, which is expected to attract active foreign investment by simplifying the Game G1 publication license approval process.